Did you know?
xSynthesis Search includes features often found only in enterprise search packages, at the cost and ease of use of entry-level search engines. Use it for your publicly accessible e-commerce, membership, or marketing web site, your protected members-only content, or your intranet.
Learn More

Other Articles
For more articles by our contributors, see:
Building a Business Class Desktop on a Budget

Building Business Class Server On a Budget (UNDER $500)
by Zoran Zaev, 2009-02 (February)
While few years ago, it may have cost $2,500 to $3,500 and more to purchase or build a basic businesses class small office server computer, prices have fallen greatly in the last 5-6 years, so that it is possible to obtain all the parts that you need and put one together for as low as ~$500-$600, plus your monitor!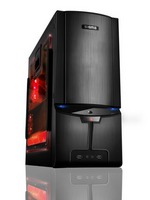 The following components were purchased from few vendors: Micro-Center (or see their monthly specials), NewEgg.com, and TigerDirect.com. Prices may vary now, as specials come and go, but still the price ranges ought to be similar and with time even lower.
Note: if the links don't work anymore, simply go to the particular store's web site and search for similar products by keyword or component type & brand. Products model numbers come and go often and change frequently.
---
Total: $500 (my actual cost as of Jan 22, 2009, including rebates was $463)
---
Few extras:
SATA Cables (~$20 for 5): Nippon Labs 18" (1.5 ft.) SATA II Cable with locking latch Model SATA-L0.5-R $3.89/each for 5 or more (NewEgg)
eSATA (external) Cables (~ $17 for 3): Nippon Labs 3.28 ft. eSATA 3.0Gbps Male to Male I Shape Cable Model ESATA-1M-BK, $5.49/ each when buying 3+ (NewEgg)
USB Brackets: USB or other brackets can be easily obtained from either NewEgg or CyberGuys.com.
PCI e-SATA, 4 port (extra SATA ports) ($25): Rosewill Silicon Image RC-209-EX PCI External e-SATAx2/ Internal SATAx4 1.5G HDD Controller Card Supports RAID0/1/5/0+1/ or un-RAID modes (NewEgg)
It has 2 external/ 2 internal or you can have 4 internal, 1.5 Gb/s connections; supports just plain drives or RAID 0, 1, 5, 0+1.
Backup/ UPS ($45): APC Backup UPS 200W, at Micro-Center, but $40 at Wal-Mart! (you local office supply or supermarket stores may have good deals on these too, as they are heavy for shipping).
However, depending on the number of drives that you have connected and other peripherals that you like to protect in a case of power failure, you may like to consider getting a larger UPS (ex. APC

Back-UPS ES 750, for $100 is 450 Watts/ 750 VA).

Hard Drives (HDDs): You may like to obtain additional hard drives and consider making RAID configuration, depending on your data storage needs. The motherboard will allow you for up to 6 Sata drives, plus 4 on the optional SATA PCI card. That's 10 drives!

It is amazing, how large of a storage you can make in your system.

10 drives x 1.5 TB = 15 TBs, at $130/ drive, that would cost you $1,300

, which is very low price for $15 TB of data. If you put this in a RAID 5 configuration, then you will still have about ~ 12 TB of fault tolerant storage (you can use this handy RAID calculator).
Hard Drive - Fast 10,000 rpm: Western Digital Raptor WD740ADFD 74GB 10000 RPM SATA 1.5Gb/s Hard Drive $100, or

Western Digital VelociRaptor

WD1500HLFS 150GB 10000 RPM SATA 3.0Gb/s Hard Drive $180 or Western Digital VelociRaptor WD3000GLFS 300GB 10000 RPM SATA 3.0Gb/s Hard Drive for $230.
This drive will improve your work in a noticeable way, as it has very low seek & write times (4.2-4.7 ms). Ideally, you would use it for your boot & system drive/ partition. Of course, you can add a 2nd one for a secondary drive where you can store files that have to be modified (say for video editing and other data intensive tasks).
Extras Total: ~$100+drives, depending on your drive selection.
---
Assembly
The assembly follows the same procedures as the previously published article that deals with the creation of a business class desktop computer. There is a difference in respect to the Bios and it's support for Sata drives, however.
By default the operating system (OS) installs under the Bios SATA#1 configuration of IDE. In order to get full SATA speeds for your SATA drives you will want to change this to AHCI (this is done in the Bios, under Integrated Peripherals > OnBoard Devices >Configure SATA#1 as, giving you the options of IDE and AHCI). But, if you just change this, the OS will not boot. You have to follow these steps, in order to properly boot into your OS:

Go to: Control Panel > Device Manager > IDE ATA/ATAPI Controllers > Update Drivers. You have to point Windows to the DOS driver that came with the motherboard/ controller. Windows will complain because it is still in IDE mode, but ignore the message. When asked to reboot, go ahead and do that. At reboot, enter the motherboard BIOS > Switch the controller to AHCI. Reboot again and Windows will auto detect the new PCI controller i.e. the SATA AHCI controller, installs the AHCI drivers and will ask you to reboot once again. For more information see this helpful blog post by MacClipper.

If you have a USB drive plugged into this server, the Bios takes a while to initiate these drives (1-2 minutes lag). This has to do with this board's support for various USB emulation types: Auto, Floppy, Forced FDD (ex. forcing HDD to boot as Floppy, such as with Zip drives), Hard Disk, CDROM (handy for booting from CD via a USB stick, or using a USB where Floppy is required, for example for additional drive controllers at Windows setup).
Troubleshooting
Here are few problems that were encountered and how they were fixed.
Q: Boot would not recognize the drive always. Also, sometimes the drives would freeze or have slow performance, or drives loaded with different order.
A: Changed to new SATA cables and that fixed it.
Q: Sata cable only plugged into motherboard, not in drive, gets broken screen/ freezing screen.
A: Completely disconnect cable from motherboard or completely connect it.
Q: What block size (bytes in each allocation unit) does my drive have?
A: Run chkdsk c:\ to find out. Typically, it will be 4,096 bytes per allocation unit.
Q: Slow boot with external USB drives (up to 2:24 min, from 0:39 min regular boot time)
A: Avoid using external USB drives on regular basis, instead use eSATA connections.
Performance
While building this kind of a business class server for about $500 is surely a great deal, the performance of this system primarily focuses on the performance of the drives. Utilizing 10,000 rpm drives for your C:\ partition will surely help you greatly, Windows will boot very quickly and applications will open and close with a snappiness that you may not be used to seeing in the past. Furthermore, look at setting up RAID 0 (stripping) configurations to further increase your speed (software RAID such as the one built into Microsoft Windows may be sufficient for your needs; otherwise SATA cards often come with hardware RAID support, too).
Conclusion
I hope some of the information in this article was helpful in your work to get a business class server at an affordable price. The part to focus further, is clearly drive selection, configuration, and optimization. But, drives optimization is a longer subject and I plan to have another article that discusses this very subject, considering different drive configurations, testing their performance, and more.
Want to know more? today and let us know how we can make this section better.