Did you know?
xSynthesis Membership can enable you to manage your users and their group affiliations, as well as enforce various permissions on your web site, all within an easy to use web interface.
Learn More

xSynthesis Content Management System (CMS) Overview
xSynthesis Content Management System (CMS) enables you to manage your web site content easily, all within your web browser. Create templates and publish content to them easily. Enable people to have different publishing permissions, via the built-in integration with xSynthesis Membership.
xSynthesis CMS uses industry standards and is: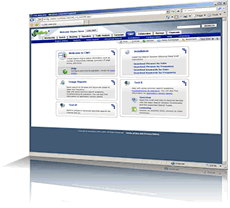 easy to use via a web UI (User Interface)
easy to configure via XML (Extensible Markup Language)
powerful web UI via AJAX
easy to integrate into your existing web site via HTML (Hypertext Markup Language)
If you have custom needs, you will find xSynthesis Search very easy to customize via HTML, ASP.NET, and SQL.
In contrast, traditional CMS solutions are often hard to configure and integrate into your existing systems, use proprietary data storage that does not allow for easy access or manipulation of the data. Their access mechanism is often a custom API based on COM or Java, and it can be slow, particularly when used in web based environments.
xSynthesis CMS Feature Highlight:
Create templates and post page content using HTML, graphics, and other standard web components.
Easy to use web-based UI (user interface) for content creation, management, administration, and reports.
Easy to integrate and customize for your site, using only HTML and CSS (Cascading Style Sheets).
Not limited to the number of templates, page postings, or content authors and editors.
Scalable across multiple servers.
Powerful and reliable, built on top of Microsoft.NET and Microsoft Sql Server.
Requires xSynthesis Membership.
Want to know more? today for a free consultation and technology needs assessment.